Alix !
Hi im Alix I was born around Sydney in 1964 and grew up here as well, you could say i am biased about Sydney but im sure everyone is about their hometown. Theres nothing like having the knowledge that Sydney was chosen over so many other countries to hold the 2000 Summer Olympics. I live around 50 minutes away from the centre of Sydney, but try to get there as much as i can, espically when the Gay and Lesbain Mardi-Gras is on, it is interesting to see how much work the people in the parade have put into their costumes and floats, a good night out to have fun with friends and just enjoy yourself while seeing a live theatre in front of your eyes.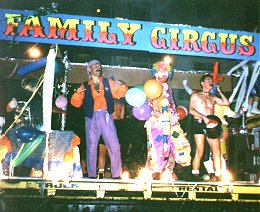 .

. .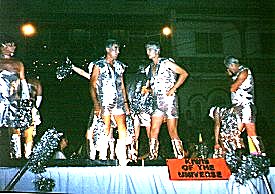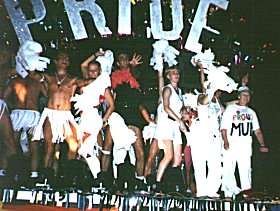 .

. .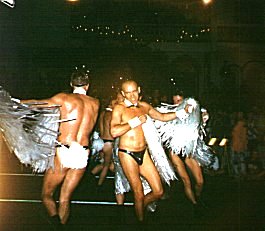 SOME PICTURES I TOOK AT THE 1995 SYDNEY MARDI-GRAS
I have many interests, the main ones are Philosphy, Painting and Craft. Philosophy has helped me in a few ways to see why things are done as they are, also how true some of the sayings are that ive heard my favorite being, that to give the correct answer you have to be given the correct question, which I found in my previous job.
With painting I just like to see what people used as their idea to paint such pictures, the landscape ones being my most favourite, as well as an unusal paintingby Leonardo da Vinci called St Jerome (c1480), it shows the sinewy body of the saint and it was never finished.
With craft I have a talent of being able to accomplish any type of craft, be it folk art, decopage to topiary, in the near future i shall have some pictures of my work on the page.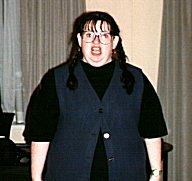 . .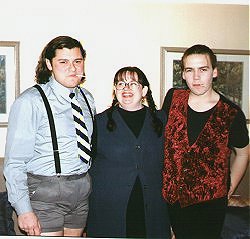 .
me alix with friends john and gavin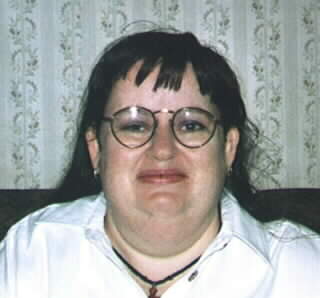 .
alix.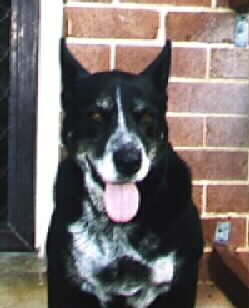 . .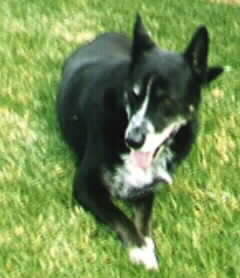 my dog sam
Birthday, Friendship Anniversary, Love
Send a card just cause you want to
Click Here