Australia
In Australia there is 6 States and 2 Territories, the States being New South Wales, Queensland, South Australia, Tasmania, Victoria. The Territories being Canberra and The Northern Territory.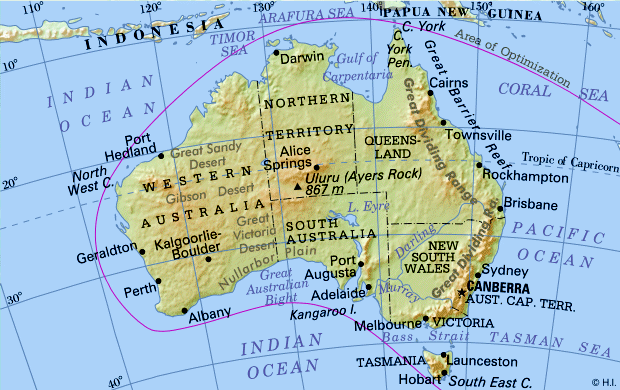 Where I am from New South Wales, it's also known by the capital city Sydney. In New South Wales is the Capital of Australia being Canberra, Canberra is a seperate state, it is the area for people to go to in winter to go skiing if they live in New South Wales. Canberra houses our head of Australia and many government bodies with the running of Australia. The area Canberra was chosen when New South Wales and Victoria though they should both be the Capital of Australia, what was decided was that a new state would be made in between New South Wales and Victoria being the same distance apart from the capital cities of Melbourne and Sydney.
The Northern Territory, which is up the top part of Austrlia, the weather there is mostly humid and hot, the area has a very high aborogine population as the land has meanings for them, popular place to visit Uluru (Ayers Rock).
Queensland is known as the area that has sunshine almost all year round, the are areas called surfers paradise which of course has many beaches, Queensland has Warner Bros World which shows how movies are made and many theme rides, a popular area to see natures wonders is The Great Barrier Reef, which has interesting coral growth which can be seen from a glass bottom boat.
South Australia the capital being Adelaide, known in Australia as the city of churches, for finding rare gems in the earth and wine produced in the area.




Tasmania was used as a penal colony when Australia had mainly convicts living here, to these days you can still see some of the areas the convicts built and lived in Tasmania is a quiet relaxed area perfect to get away from the hussle and bussle of main city living, Is one of the coldest states in Australia.
Victoria the 2nd settlement in Australia is know as the garden state of Australia, there are also many multi cultural areas like Lygon st ( Italian) and Dixon st (Chinese).
A cooler part of Australia. Victoria is the clothes capital of Australia having many boutiques and factory shops at easy reach which you can get to by riding on a tram.







Western Australia has many different climates one side being green and lush the other dry and arid.
Western Australia is almost the hottest place in Australia to live, and has a 2 hour difference in time from the eastern part of Australia.






As you can see Australia has much to see and do, in such a small land, we have all that the world can offer and more.